Roland TR-909, TR-606, TR-707 and TR-808 Drum Machines collage.

The Drum Programming course on Elevator Program has been a gateway for many artists to our music production philosophy. This course is also the foundation module of 'How to Make Electronic Music' and through the Drum Programming modules we explore Ableton Drum Racks in great detail. We spend no less than four weeks exploring advanced drum production and programming in the Artist Development Program.
Ableton Drum Racks come loaded with a collection of pre-set drum kits which are modelled on classic Roland Drum Machines such as the TR-606, TR-707, TR-808 and TR-909, all of which were hugely influential and set the foundations of modern electronic music. Ableton has carefully sampled each machine to replicate the nuances of the originals in their preset drum kits enabling artists to immediately integrate the classic Roland sound into their productions and creative process.
Roland TR-808 Drum Machine
In 1980, Roland released the TR-808 at a time when digital recreation of real drum sounds was a popular trend. It's full name is the TR-808 Rhythm Programmer and it was one of the first drum machines that allowed users to program rhythms instead of using preset patterns.
The 808's affordable cost and unique sound helped shape hip-hop and dance music.
It is most recognisable for its bass drum which produces very low frequencies as well as its distinctive cowbells. The 808 featured in a number of hit records in all types of genres including Whitney Houston's "I wanna dance with somebody", Marvin Gaye's "Sexual Healing" and Phil Collins "Can't turn back the years."
Juan Atkins and Jesse Saunders were some of the earliest producers to support the 808. Chicago-born house producer Lil Louis, created the dance music anthem "French Kiss" with 808 kicks and snares.
Cybotron's "Clear" song morphed and edited samples from the 808 which themselves became sourced sounds for producers.
Roland TR-909 Drum Machine
The 909 drum kit is inspired by the legendary Roland TR-909. It's vintage sound has been used in all types of genres and is a go-to kit for many producers and it is still the most well-known. Released in 1983, the 909 was one of the first Roland instruments with MIDI, and was the first analog/digital hybrid machine. Users could program everything and sequence 96 patterns into songs of up to 896 measures.
The 909 was popular because of its futuristic sound and affordability. The sounds were so simple and so pure , you almost don't have to do anything to make them sound great. It took off in lower income neighbourhoods like Chicago and Detroit, and the machine's unique sounds began to spread the two cities' growing genres of house and techno. It also played a huge role in 90's techno.
Producer and live performer Jeff Mills, known for playing the machine and not just programming it, maximises the 909's potential. He manipulates the start/stop function so that he has more control over a sound. The resonance that continues after he hits stop creates an effect where other machines cut the sound completely.
Roland TR-606 Drum Machine
Intended to be used in tandem with the TB - 303 Bassline, the TR-606 has 7 classic drum sounds produced with analogue synthesis. It stores up to 32 patterns and 8 songs. The 606 allows switching between Pattern Play and Write mode while running - making the 606 useful for both studio work and live performance. Portable and affordable, it proved to be capable in its own right, and was used on tracks by artists including Aphex Twin, Orbital, DJ Pierre, and Plastikman.
DJ Pierre formed the group Phuture, setting the 606's drum patterns of the growing Chicago house scene with their 'Acid Tracks' release. The track is widely considered to be the first acid house record created and eventually receiving a release through Trax Records in 1987
Richie Hawtin's Sheet One (Plus 8/Novamute, 1993), his first album as Plastikman, was made with a TR-606 alongside the TR-303 and TR-808.
Roland TR-707 Drum Machine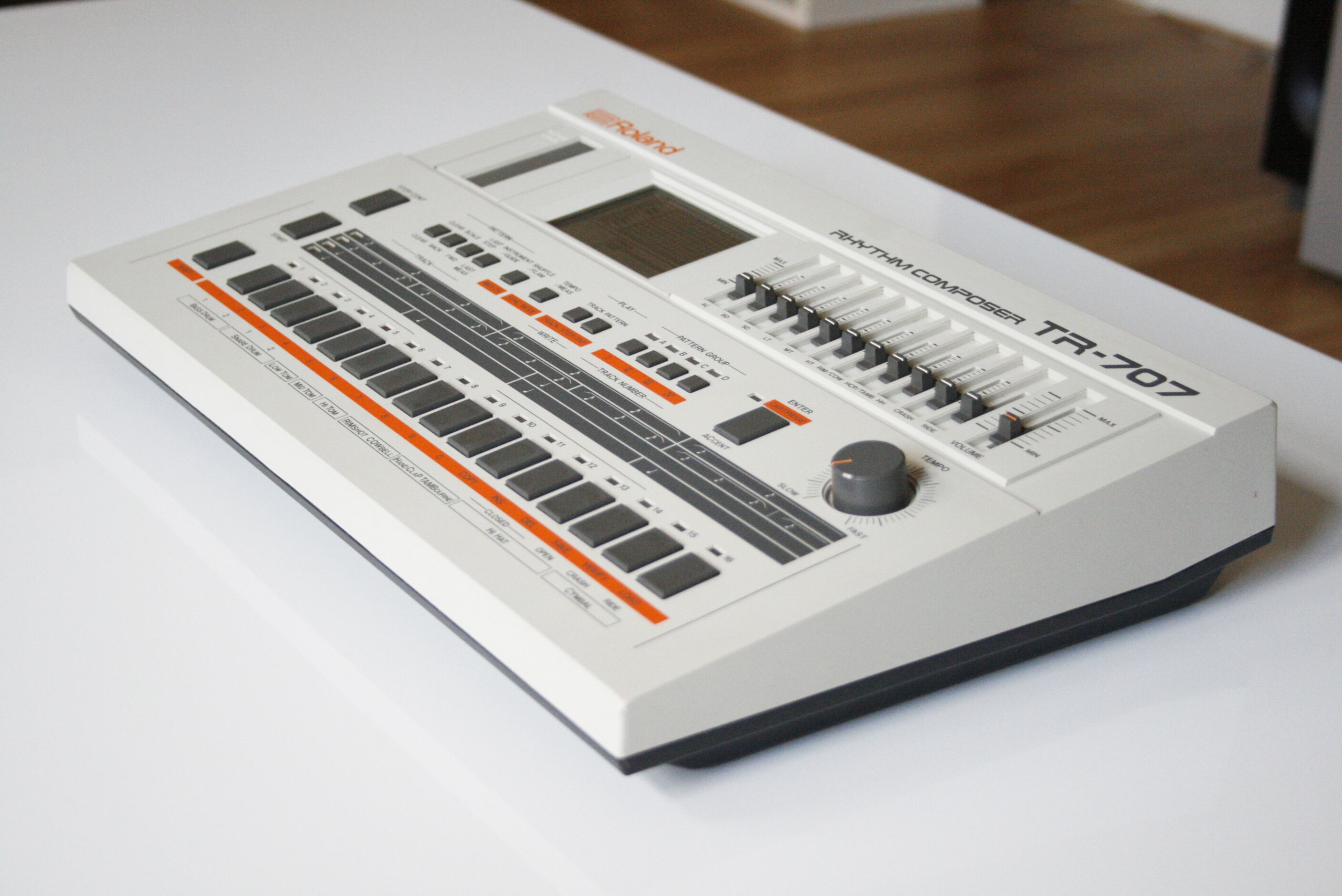 Released in 1985, the TR-707 drum machine gets overshadowed by the other machines in the rhythm programmers, yet it has also been used by many of the same producers. It had a huge impact on early Chicago House, and Acid House. Its snare, claps, and hi-hats shaped house's grooving sound, while its toms kept bodies moving with its round decay. The TR-707 cowbell is its most recognizable element.
An early innovator of house music, Larry Heard, AKA Mr. Fingers created influential music with the 707. His most famous track is Washing Machine is still regarded as a landmark track.
Another great house track that uses the 707 as the drum foundation is House Nation by Housemaster Boyz.