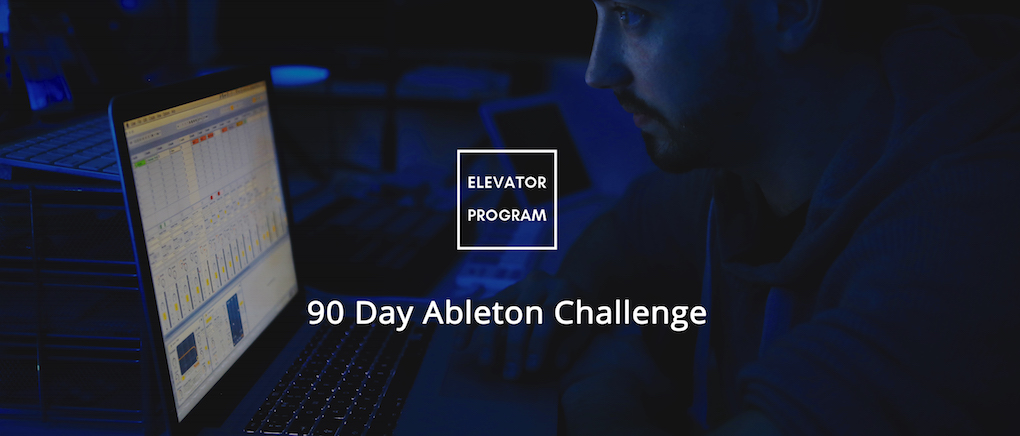 You've heard the news!! Ableton is offering a free trial of Live 10 for 90 days. Why not make the most of it and take our 90 Day Ableton Challenge. Create, produce, mix and master a track in 90 days, or go further and create a 4 track EP.
If you are new to Ableton - Enrol in our free course Introduction to Ableton Live for a quick overview of the software. If you would like to take things to the next level, check out How to Make Electronic Music, Mixing & Mastering and the Ultimate Producer Pack.
What started as a series of sold out 1-day music production crash courses at the Dublin Institute of Technology is now available online with Elevator Program. Take the 90 Day Challenge today!
Download the Ableton 90 day Trial
Head to Ableton's website, sign up and download the software for a free trial. The trial comes with a collection of instruments, sounds, kits and loops for creating all types of genres. You'll find 13 instruments to play around with including Wavetable, Operator, Sampler, and Analogue.
There are also 56 effects including Echo, Pedal, Beat Repeat, Amp, Vocoder, and Glue. You will also get access to Max for Live including the instruments, effects and customizations created by the Live community.
Download the free trial at the Ableton website

Enrol in Introduction to Ableton Live for free
The Elevator Program's Introduction to Ableton is an overview of Ableton Live and how it works. This is a free course, suitable for anybody with a passion for electronic music production and wants to learn the basics of Ableton Live.
You will learn about Ableton's interfaces: Clip, Arrangement and the Browser Window. The course also runs through Ableton Synths, Ableton Drums (modelled on classic drum machines), Audio and MIDI Effects
Learn How to Make Electronic Music
Once you have completed the Introduction to Ableton course, consider adding How to Make Electronic Music to your 90 day challenge. It lays out an extensive road map for making records in Ableton Live and is perfect for beginner to intermediate artists looking to learn a new workflow, speed up their creative process and gain a deeper understanding of Ableton's architecture.
This course dives deeper into Ableton's features including drum racks, creative sampling, working with Ableton Synths, Arrangement and Mixing. It was designed over 10 years of research and it was created to give you the tools to create music fast and achieve great results.
Learn the Art of Mixing & Mastering
Elevator Program's Mixing & Mastering course is perfect to complete your track during your 90-day challenge. You'll learn about Ableton Live plugins and how engineers use EQ, frequency, effects and compression to create a great mix.
Mastering is the final part of the production process. It is important to understand for the purpose of testing your tracks out, sharing with labels and to gain a better understanding of the challenges that mastering engineers face.
Unlock The Ultimate Producer Pack and save 33%
The Ultimate Producer Pack is perfect for the 90-day challenge. It combines both How to Make Electronic Music and the Mixing & Mastering with an overall saving of 33%.
This bundle is suitable for electronic music producers who want to get the best out of Ableton Live, better understand its instruments and effects, improve their creative workflow and learn how to Mix & Master their own tracks.